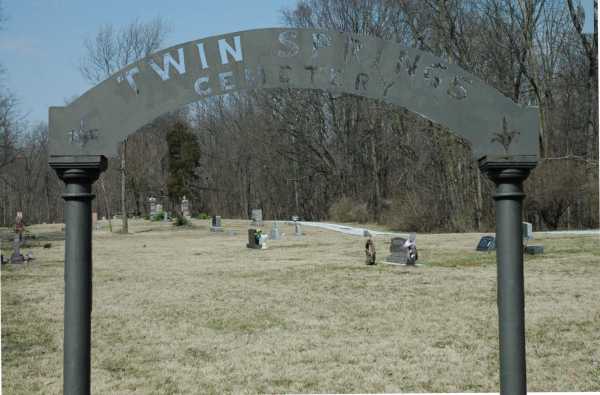 Twin Springs Cemetery
W Co. Rd 80 S and S. Co. Rd. 520 W
Harrison Twp, Howard Co, Indiana
Cemetery Map

Twin Springs Cemetery Twin Springs cemetery is located in western Howard County, on the banks of the Big Wildcat. It derives its name from the flowing of two springs from opposite banks of a pair of hills, located near the church. The original Twin Springs church was a primitive small building built in 1849. The early members met in homes served by a circuit minister. Thomas McClure was the first class leader in 1843. The cemetery was located on the far end of donated property. At the time of building the new Twin Spring Methodist Church, Defenbaugh was graveled cutting through church land. The new church was then on the north side of Defenbaugh. The cemetery continued to expand south toward the church, separated by the parking area. In early times the horses and buggies were housed to the rear of the church. The earliest recorded burials were in 1845, however family stories relate that several people were buried as early as 1827. When the church was no longer in use, and most memberships were transferred to the more modern sister church in west Middleton, the church was dismantled and the graveyard extended. Burials continue with both old and new families. The north section is the oldest followed by the middle section which has both new and old graves sites. The cemetery is an old time family cemetery. All care is up to volunteers and family members. It is under the policies of the Twin Springs Cemetery Association. Earliest Howard county pioneers are buried here, among them one Revolutionary War veteran veterans from several Civil War veterans, along with World Wars I and II and more recent wars.

This project was completed by Tom Quinn in the summer of 2006.

This information is provided for non-commerical use only and may contain inaccuracies.
Please report any inaccuracies to: John Anderson

This database was last updated February 2007.

Alphabetical Listing:


Return to Cemeteries of Howard County, Indiana